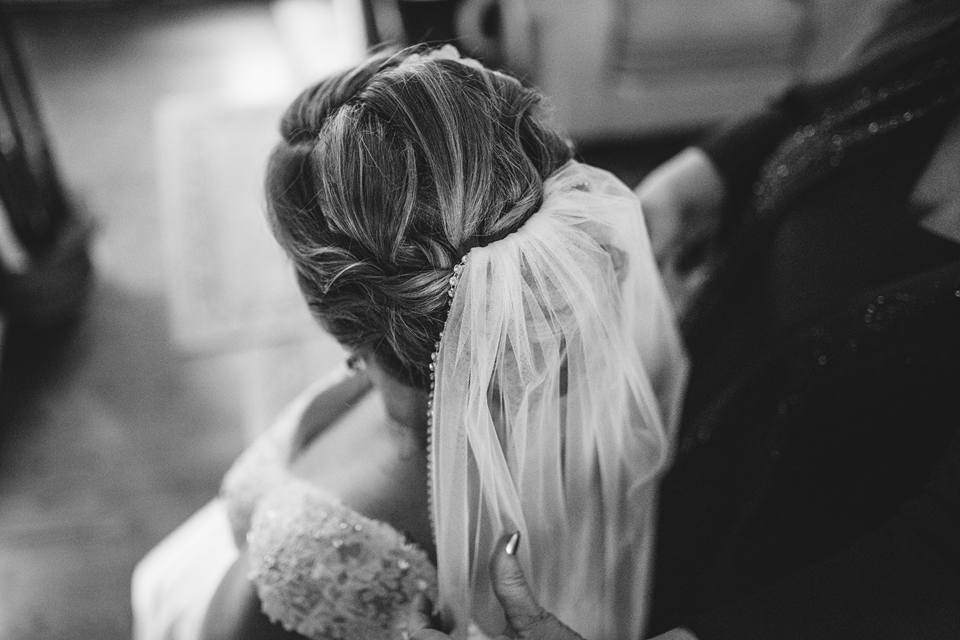 Congratulations on your engagement! Let the planning begin! Your hair and makeup for your wedding day is something that will be photographed and looked back on for years to come. The ultimate accessory to your gown! With over 15 years of experience, we invite you to let our bridal styling team of experts style you to perfection on your big day! Thank you for considering us for your wedding day and we look forward to hearing from you!
Click here to download our Wedding Policy/Contract


In Salon
Makeup application $40
Updo $60
Trial makeup $30
During this 30 minute appointment we will consult about your skin as well as your likes and dislikes in regards to your makeup on you wedding day. You will leave looking flawless and picture perfect! You will also have the option to buy the lip color we have chosen to be used as touch up on your wedding day.
Trial updo $50
During this 1 hour appointment we will not only look over photos of hairstyles that you are drawn to but it will also include a finished style that will be duplicated on your wedding day!
Formal blowdry/styling $35

BRIDAL BLISS FACIAL PACKAGE
Have glowing, radiant skin as you walk down the aisle. This package includes three facial treatments, beginning two months before your special day.

Two months before your wedding~
The Rejuvenation Facial
A facial customized to your specific skincare needs. Whether your concerns are acne, dehydrated, aging skin, or simply relaxation and rejuvenation. This facial includes deep cleansing, enzyme or Alpha Hydroxy exfoliation, extractions (if needed), facial massage and balancing mask.
70 minutes

One month before your wedding~
The Vitamin C Signature Facelift
This revolutionary treatment, performed in four layers, will change the image of your skin in one application. Vitamin C, Glycolic Acid and gentle but highly active enzymes speed up cellular turnover to brighten, tighten and lighten your skin in just one treatment.
60 minutes

Five to Seven days before your wedding~
The O2 Lift~Exfoliate, Illuminate and Oxygenate
A breath of fresh skin is what you receive from this treatment. Oxygen, plant~derived stem cells, peptides and a high concentration of enzymes are infused into the skin. Leaving it luminous, refreshed and rejuvenated.
60 minutes

$200


Traveling
Up Do/Formal Styling $ 75+
Formal Blow Dry $ 50
Jr Bridesmaid $ 50
Children under 12 years $ 50
(price may increase depending on length and thickness)
Make Up $ 40
Travel
Travel Fee $ 50 (30 minutes or less)
100$ (over 30 minutes)
In salon and travel prices will have an increase of $ 10 for the use of clip-in hair extensions. Up Do/ Formal Styling pricing is subject to increase depending on length and thickness of hair.